The ROTOTILLER Engine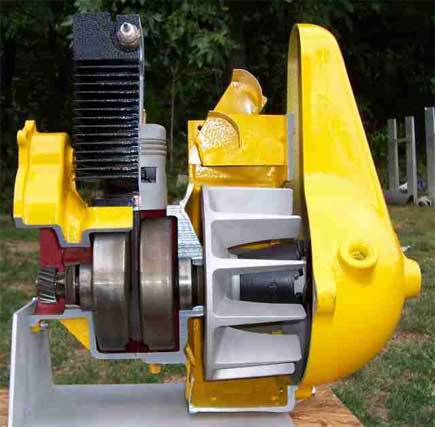 This is a cut-away of the engine used on the Frazer ROTOTILLER. It is hard to believe that this engine is only rated at 5 horsepower. It has a 3" bore and 3.250" stroke making up 22.97 cubic inches. This same design was used in the earlier ROTOTILLERS that Kelsey built (Models AA, A-1, B1-2, and the B1-4). Apparently Kelsey had some type of arrangement with SIMAR to use their design for the engine for his machines. This arrangement was most likely passed along when he transferred the rights to build ROTOTILLERS to Graham-Paige around 1944. The connecting rod uses needle bearings at both ends while the crankshaft turns on heavy-duty ball bearings. The original crankshaft seals were made of leather, but have since been changed to a rubber material.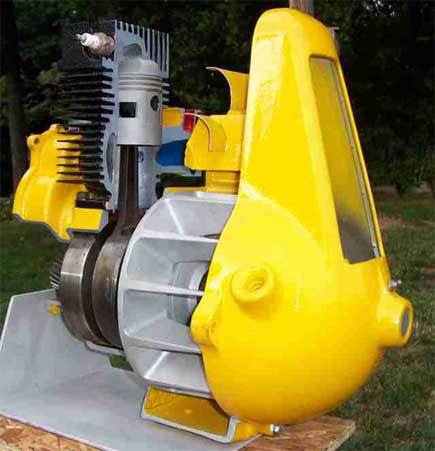 It is unclear who built the ROTOTILLER engine for ROTOTILLER, Inc. when Kelsey made the Model AA, A-1, B1-2, and B1-3 machines. SIMAR may have produced the engines or engine parts. In a 1941 booklet entitled The Dawn of a New Era, a stockpile of parts is shown in their stock room. An October 1937 ROTOTILLER NEWS has several photos of different parts of the Rototiller being machined, including engine parts.
At one point, Bell Aircraft built these engines for Graham-Paige. Go here and click on Bell Aircraft to read an interesting story about where these engines were used. For photos of this application go to Donald Jones' Newsletter.
This engine was also used in a 4-wheeled tractor called the Model T Jaques-Frazer Tractor featured on this website. Go to Jaques-Frazer Model T to see two examples of this tractor.
There are several pictures of other views posted in My Photo Album